Well, after falling in love with the breed, and having the pleasure of sharing our home with our neutered boy, J.J., we were truly smitten with the breed. But then...
J.J.'s breeder posted a photo of her new additions on Facebook. The tiny babies were newborn, and cuddling up with their Mum, eyes closed and ears folded over, as is the way with newborn kittens. Among these precious bundles I saw a little black and white face. I congratulated Nikki on her new arrivals, and commented how much I loved the little black and white baby. Well, I do have a soft spot for a black and white cat. The rest, as they say, is history!
Polly joined our household as a show/breed queen, and instantly made herself at home. She's very different to J.J. temperament-wise. She has far more energy, and is far more demanding. If I thought J.J. was 'bad'... He doesn't come close!
Polly earned her name because of her love for sitting on shoulders. It's bordering on obsessive sometimes. She has been known to stand at the top of our stairs, and wait until I'm halfway down to leap onto me. She also loves to leap up from the floor into my arms, but fortunately she's never done this without me realising beforehand. Polly is so intelligent, and problem solving is no problem for her!
Due to Covid we had to stop showing for an extended period of time, but at the last show before the country went into lockdown, Polly attained her Champion title, and finally had her first litter of kittens a couple of months before her third birthday. A little later than usual, but Covid made things a little more difficult!
Many thanks to Gem for picking Pollys brother so I could have Polly, and Nikki Howells of Merrypurr Devon Rex for helping make my dream come true again!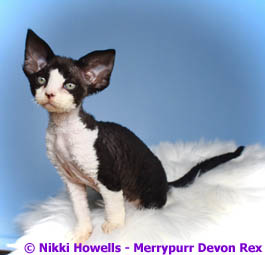 My beautiful girl, before she came and
joined our home, showing her huge
ears and her soft rexed coat.