Located near Basingstoke, Hampshire, we have
been owned by Devon Rex since 2016.
Angletwitch is an old Devonian word meaning 'a wriggly worm', but was also used as a term of endearment for restless, fidgety children. We think this name suits the Devon Rex breed. They're busy, fidgety kids, with long worm-like tails.
We started showing our Devon Rex boy, J.J., in 2016. This was the perfect way for us to learn so much about the breed. Learning about the breed standard, together with taking care over our cats mental and physical wellbeing is vital to producing wonderful family pets, and hopefully future show winners! We have only been breeding Devon Rex for a short time, however have decades of breeding experience from our Ragdolls, who are bred under the Eiserblew prefix.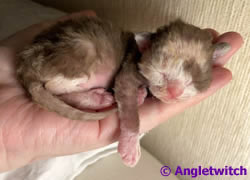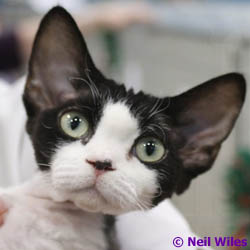 Devons seem to be a magical breed, who capture the hearts of everyone who meets them. I certainly know that since my first encounter, my life has never quite been the same! They love visitors. Anyone who enters your home will be approached by the Devon Welcoming Committee, and any bags, coats or other belongings thoroughly searched. I sometimes think my Devons do 'stop and search' better than any border control officials ever could!
They will chat with you, and force themselves into every aspect of your life, from watching television, to taking a bath. You'll never be lonely if you share your life with a Devon Rex!

We are an Feline Coronavirus (FCoV) free cattery, and to the best of our knowledge, currently (as of February 2022) are the only Devon Rex breeder in the U.K. to have tested every cat living here, and proven our FCoV-free status. To learn more about this, please see our page dedicated to FCoV.